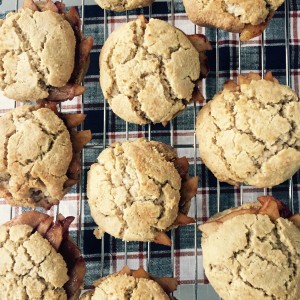 Fall is my favorite time of year. This season brings with it so many of my favorite things, like: the smell of cinnamon, perfectly crisp apples and the chillier, darker evenings to enjoy a warm treat. Below is a recipe I'm sharing for just the occasion: apple pie biscuits.
Recipe:
Biscuit
4 C almond meal
1 teaspoon baking soda
1/2 C all natural, unsalted butter (at room temperature)
pinch of sea salt
4 eggs
4 tsp maple sugar
pinch of cinnamon
Filling
3 Apples (peeled and sliced thin)
2 tsp cinnamon
2 tbsp all natural butter, unsalted butter
Preheat the oven to 350 degrees.
In a stand mixer (or bowl and whisk for more of a workout) whisk almond meal, baking soda and sea salt until evenly blended (get rid of any chunks that might exist in your almond meal) .
Whisk together eggs in a separate bowl
Slowly add eggs into the dry ingredients until fully incorporated
Add in the 1/2 C of all natural butter cut into small cubes and mix until most of the the butter is blended
Using a 1/4 C measuring cup, portion out the biscuits, placing them on a parchment lined cookie sheet (when you are handling the dough you need to work quickly because you do not want the butter to melt)
Pop the biscuits into the preheated oven and bake for 20 minutes.
While the biscuits are baking, melt the butter in a skillet
Add in 2 tsp of maple sugar into the melted butter
Add in apple slices to the melted butter
Sprinkle cinnamon and remaining 2 tsp of maple sugar
Stir the apples until they are well coated and begin to soften (~5 minutes)
Set the apples aside until biscuits are done
When the biscuits are done in the oven, place the biscuits on a cooling rack for 5-10 minutes until they are cool enough to handle
Slice the biscuits with a cerated knife 3/4 of the way through and place the precooked apple slices inside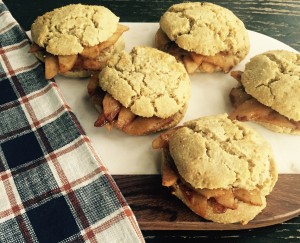 In no time, your kitchen will begin to smell just like a wonderful fall day and you'll have hand-held apple pies to enjoy!