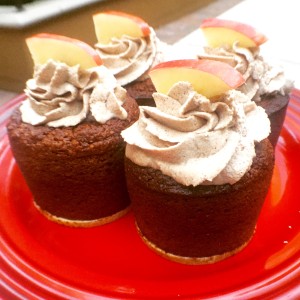 Fall is my absolute favorite time of year. Growing up in Miami, I didn't get to experience this changing of the season, but I did get to enjoy the produce this season has to offer. The smell of freshly baked apple pies in my grandmother's kitchen was a definite indication to me that this wonderful time of year was here again.
In order to revive this memory, I'm sharing this recipe for apple pie cupcakes. A compact, healthier version of my childhood memory. The other benefit of this recipe is your entire house will smell of fall!
Recipe:
Cupcake
2 1/2 C almond meal
1/2 tsp baking soda
1 C all natural applesauce
2 tsp ground cinnamon
1/2 tsp ground clove
2 eggs
1/4 C maple syrup
Filling
2 apples, peeled and chopped into small cubes
1/4 C maple syrup
2 tbsps maple sugar
1 tsp cinnamon
Icing
1 C Coconut Cream (you can buy coconut cream or take coconut milk and leave in the fridge for 24-48 hours then skim the cream off the top)
1 tbsp cinnamon
1 tsp vanilla extract
5 tbsp maple sugar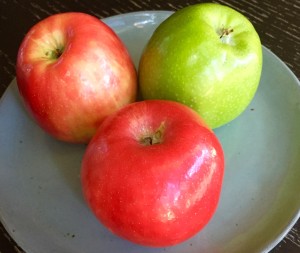 Preheat the oven to 350 degrees.
In a mixer, fitted with a whisk attachment add the almond meal, cinnamon, clove and baking soda and whisk until there are no lumps in the almond meal.
While the mixer with the almond meal and baking soda is on low, slowly incorporate the wet ingredients one at a time.
Using a quarter cup measuring cup, spoon the batter into a greased cupcake tin. Using a measuring cup will ensure that the muffins are all the same size and will therefore bake evenly.
Bake for 25-30 minutes, until a toothpick comes out clean.
Let cool for 10 minutes.
While your cupcakes are baking…
Place the ingredients of your filling into a small saucepan on medium heat.
Bring everything up to a simmer, stirring regularly.
Cook down until your apples are soft and the juices thicken.
Let cool – it should look like the below picture.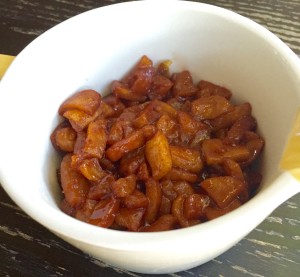 Once the cupcakes are cooled (and the filling is cooled):
Use a tablespoon to scoop our the centers of the muffins.
Then fill each muffin with the filling.
Put this to the side.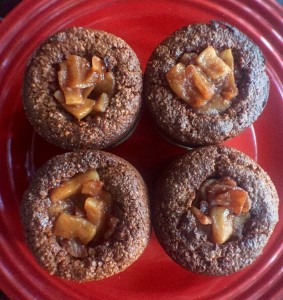 Now, in a mixer fitted with a whisk attachment add in the coconut cream, cinnamon, vanilla and maple sugar and whisk on high until the cream is thick.
Fill a piping bag with the icing and frost!