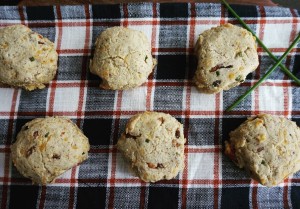 As a child from the south – well "south-ish" (I'm from Miami); anyway, I love biscuits. I remember when I was a kid catching whiffs of buttermilk biscuits cooking away in the oven and that smell making me feel so happy. After I stopped eating gluten, I found making dough (of any kind) extremely difficult. The flour substitutes I used either made the dough too dry and the dough would break apart, or the dough would be too wet and become more like a batter. Below is a success story where the biscuits formed a golden crust on the outside and crumbled just right when I cut them apart.
Recipe:
4 C almond meal
1 teaspoon baking soda
1/2 C grass-fed butter (cold)
pinch of sea salt
4 eggs
3 slices of thick cut bacon, chopped into small (1/4 inch) pieces and cooked
4 tbsp chives chopped finely
1 C freshly grated organic cheddar cheese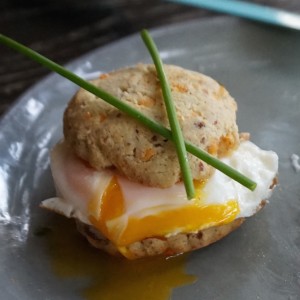 Preheat the oven to 350 degrees
In a food processor pulse the almond meal, baking soda and sea salt until evenly blended (get rid of any chunks that might exist in your almond meal)
Add in the butter cut into small pieces
Pulse the mixture a few times
Then add the eggs – one at a time
Pulse the mixture slowly until the dough comes together
Put the dough into a large bowl and using a spatula, fold in the bacon, chives and cheddar
When you are handling the dough you need to work quickly because you do not want the butter to melt
Using a 1/4 C (greased) form the biscuits (using the measuring cup keeps them all a consistent size and means you touch the dough with your hands less)
Pop the biscuits into a cast-iron skillet and bake for 15-20 minutes
In no time, your kitchen will begin to smell just like those mornings you too might remember from your childhood. I decided to make myself an egg sandwich with mine, but they are also great warm with a bit of the leftover butter. Enjoy!