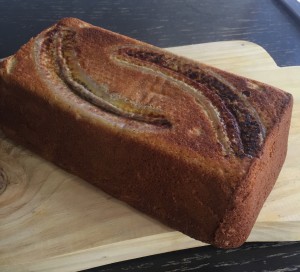 Banana bread is something we ate quite a bit of in my house growing up. In addition to the citrus trees we had in our yard, we also had a few banana trees that meant we incorporated bananas into many of our meals. I decided to create my own paleo twist on the banana bread I remember as a kid.
Recipe:
2 C almond meal
4 eggs
1/4 C maple sugar
1 tsp baking soda
3/4 C maple syrup
3 ripe bananas, 2 mashed + 1 sliced in half
2 tbsp cinnamon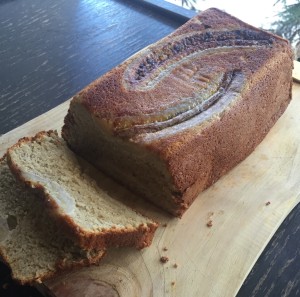 Preheat the oven to 350 degrees
In a food processor, add mashed bananas, almond meal, eggs, maple sugar, maple syrup, baking soda and cinnamon
Pulse all the ingredients in the food processor until the batter is smooth
In a greased bread loaf (I also lined with parchment paper), place the banana you sliced in half face down in the pan
Pour the batter slowly over the bananas in the loaf pan
Bake for 50 minutes — until a toothpick comes out clean
Cool, slice & enjoy!