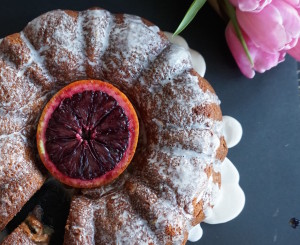 This year for valentines day, we did most of our celebrating on Saturday and decided to enjoy a relaxing Sunday running errands and hanging out at home. So during our lazy day at home, I decided to bake something light and festive for the occasion. This blood orange bundt cake is light and fluffy with a sweet glaze that keeps it moist for you and someone special to enjoy (if you don't polish it off all on your own). Happy Valentines Day!
Recipe:
Cake
2 C almond meal
4 eggs (separated)
1/4 C maple sugar
1 tsp baking soda
3/4 C maple syrup
juice and zest of 2 blood oranges (reserve the juice from 1/2 of an orange for the glaze)
2 tbsp cinnamon
Glaze
5.46 ounce can of coconut milk
1/4 C maple syrup
juice from 1/2 blood orange
1/2 tsp vanilla extract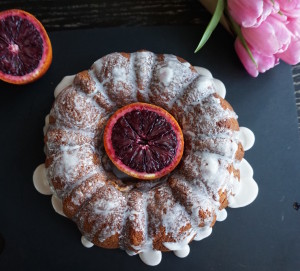 Preheat the oven to 350 degrees
In a food processor, add in the almond meal, maple sugar, orange (juice & zest), cinnamon
Pulse the food processor until everything is well combined
Then separate the eggs into whites and yolks
Add the yolks to the mixture in the food processor and pulse until well combined
Empty the food processor into another bowl and set aside
In a stand mixer, fitted with a whisk attachment, add in the egg whites and the baking soda
Whisk on medium until you get stiff peaks in the egg whites
Pour the egg whites into your almond meal mixture and fold gently with a spatula
Pour the batter into a greased bundt cake tin
Bake for 30-35 minutes — until a toothpick comes out clean
Let the cake cool on a rack for about 10 – 15 minutes
While the cake cools, skim off the coconut cream from the coconut milk
In a small bowl, whisk the coconut milk, maple syrup, blood orange juice and vanilla extract
Put the glaze in the fridge while the cake continues cooling
Once the cake is cool drizzle the glaze over the top and serve!