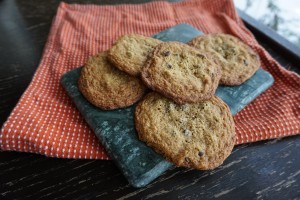 As a kid I used to look forward to my mother's chocolate chip cookies. They were a rare treat and always really crispy with perfect little peaks of chocolate chips in the flat, crunchy golden brown cookie. After much testing, and a few failed attempts, these cookies take me back to those childhood moments.
Recipe:
1/4 C room temperature grass-fed butter
1/2 C maple sugar
1 egg
1 C almond meal
1 tsp cinnamon
1 tsp vanilla extract
1/2 C cacao nibs (or homemade chocolate chips)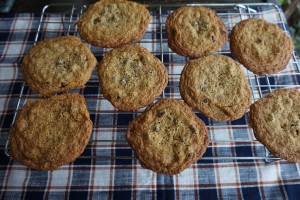 Preheat oven to 350 degrees
In a stand mixer, fitted with the paddle attachment, cream the butter, vanilla extract and maple sugar for about a minute
In a separate small bowl, whisk the egg, then slowly add to the butter and maple sugar
Once well combined, add in the almond meal and cinnamon
With a rubber spatula, fold in the cacao nibs or chocolate chips
Using a large spoon, spoon the batter into small mounds on a greased cookie sheet (make sure to spread the batter out, the cookies will spread out)
Bake for 11-15 minutes (until the edges start to crisp up) and put on a cookie rack to cool for a few minutes
Enjoy!!