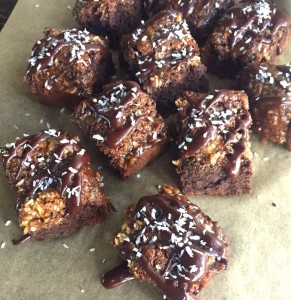 Although I'm not usually a fan of caramel, my husband is. So, on a recent Saturday night, after many previous failed attempts, I came up with this recipe for him to nibble on. They are great, bite sized bursts of flavor that hopefully you can make for someone you love.
Recipe:
Brownie
1 C almond meal
4 tsbp unsweetened, organic chocolate bar
3 eggs
1/4 C coconut oil
1 tsp vanilla extract
1/2 tsp baking soda
1 tsp salt
1/3 C maple sugar
1/2 tsp ground cinnamon
Caramel
1/2 C maple sugar
1/4 C coconut milk
4 tbsp ghee
1 tbsp vanilla extract
1 tsp salt
Toppings
4 tsbp unsweetened, organic chocolate bar
6 tbsp maple sugar
pinch salt
3 tbsp warm water
4 tbsp shredded coconut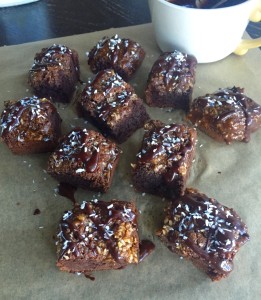 Preheat the oven to 350 degrees
In a microwave safe container (I like to use a mug), warm the coconut oil and chocolate for 30 seconds
With a fork, stir the chocolate and oil and then microwave for another 30 seconds then set aside
In a food processor, pulse the almond meal, eggs, vanilla extract, baking soda salt, maple sugar and cinnamon from the brownie ingredients
Add in the warm chocolate and pulse everything until the batter is well combined and smooth then set aside
In a sauce pan on medium-medium low heat add in the caramel ingredients: maple sugar, coconut milk, ghee, vanilla extract and salt and let it cook for ~5 minutes while constantly stirring
Pour the chocolate brownie batter into a greased loaf pan
Pour the caramel over the brownie batter
Sprinkle some of the shredded coconut on the caramel
Bake for 30 minutes
While the brownies are baking, in a microwave safe container (you can reuse the one you used for the brownies),  warm the chocolate and maple sugar for the topping for 30 seconds
Take the chocolate out of the microwave and add the warm water while stirring
Take the brownies out of the oven and let them cool
Cut the brownie bites into squares and drizzle the chocolate sauce over the top
Quickly sprinkle the shredded coconut over the chocolate while it is still wet to ensure it sticks
Enjoy immediately!