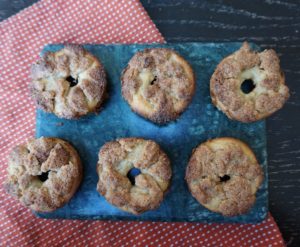 I love finding and eating a great donut. Eating paleo has stopped me from getting my hands on a fluffy, fried donut, but tonight I tried a different approach: baked cake donuts. Inspired by coffee cake, these donuts (while not 100% paleo because of the sour cream), are sweet and moist and filled that donut craving I had.
Donuts
2 1/2 C almond meal
1/2 tsp baking soda
1/2 C maple syrup
1 tsp cinnamon
2 eggs
1/2 C organic sour cream
1 tbsp vanilla extract
Topping
8 tbsp ghee (soft)
4 tbsp maple sugar
8 tbsp almond meal
1 tsp coconut flour
sprinkle of cinnamon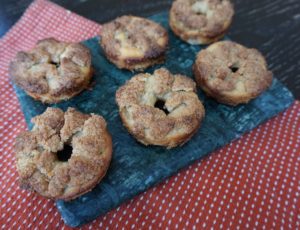 Preheat the oven to 350 degrees
In a stand mixer, fitted with a paddle attachment, add in the almond meal, baking soda and cinnamon and stir on low for a minute or two
With the mixer on low, add in the maple syrup, eggs, vanilla and sour cream and mix until the batter is smooth
In a large mug, put the softened ghee, maple sugar, almond meal, coconut flour and cinnamon and take a fork and combine the mixture (try to maintain a chunky mixture)
Spoon the donut batter into a greased donut pan and sprinkle the topping on the donut batter
Bake 15-20 minutes until a toothpick comes out clean
Cool & Enjoy!