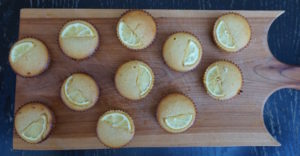 With weeks like this one with highs in California hitting the 90s, I was looking for something easy and refreshing to bake. The lemons at the store this week struck me as just that and I decided to whip up these lemon muffins. Easy, light & refreshing!
Recipe:
2 C almond meal
4 eggs
1 C maple syrup
juice and zest of 2 medium lemons
1 small lemon for topping
Preheat the oven to 350 degrees
In a stand mixer, fitted with a paddle attachment, add in the almond meal and the zest the lemon and mix to breakup any lump in the almond meal
In a small saucepan, juice the lemons and throw in the fruit and then cover with maple syrup and cook on medium heat for 5-7 minutes
Pour the mixture into the almond meal with the mixer on low and then let cool for 5 minutes
Slowly add in the 4 eggs and mix until all well combined
Using a 1/2 C measuring cup, spoon out the batter into a greased muffin tin
Slice lemon into thin slices and then slice in half and place on each muffin
Bake in the oven for 30-35 minutes until a toothpick comes out clean
Let cool & enjoy!