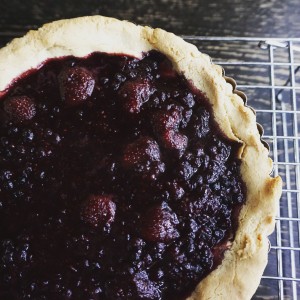 Tomorrow marks National Pie Day, so I decided to give a new pie recipe a try! I was craving something tangy and decided to mix all the frozen berries in my freezer into one delicious, gooey dessert. It was quick, easy and really hit the spot.
Recipe:
Crust
4 C almond meal
1 teaspoon baking soda
1/2 C grass-fed butter (cold)
pinch of sea salt
4 eggs
Filling
1 C frozen organic blueberries
1/2 C frozen organic raspberries
8 whole frozen organic strawberries
1/2 C maple syrup
1/4 C maple sugar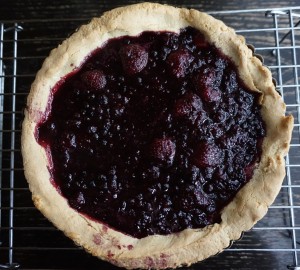 Preheat the oven to 350 degrees
In a food processor pulse the almond meal, baking soda and sea salt until evenly blended (get rid of any chunks that might exist in your almond meal)
Add in the butter cut into small pieces
Pulse the mixture a few times
Then add the eggs – one at a time
Pulse the mixture slowly until the dough comes together
Turn out dough into a greased pie pan and push down until it evenly covers the pan
Using a fork, poke small wholes into the crust to let it breathe
Bake for 20 minutes
While the pie is baking, put all the filling ingredients into a saucepan on medium heat
Cook the filling down for about 15 minutes, stirring periodically
Take the pie crust out of the oven and let it rest for 5 minutes
Pour the filling into the cooled crust and let the entire pie cool — the filling with thicken
Enjoy National Pie Day!