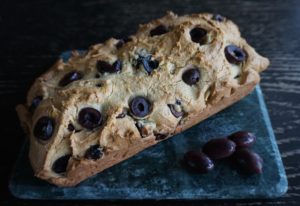 I'm about 4 months into my first pregnancy and all I seem to crave are salty snacks. I created this loaf in the hopes of curbing some of those cravings. I hope even those who aren't pregnant will enjoy this tasty bread.
Recipe:
2 1/2 C Almond Meal
1/2 C Tapioca Flour
1/2 C Olive Oil
2 tsp balsamic vinegar
1/2 C black, pitted olives chopped
1 tsp sea salt + pinch to sprinkle on top of loaf
1/2 tsp baking soda
4 large eggs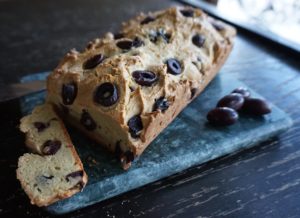 Preheat the oven to 350 degrees.
In a food processor combine the almond meal, tapioca flour, 1 tsp sea salt and the baking soda.
Then add in the vinegar, olive oil and eggs one at a time – pulse to mix until well combined.
Turn the batter out into a bowl and fold in the olives
Then, spoon the batter into a parchment paper lined and greased loaf pan.
Sprinkle a pinch of sea salt and 1 sprig of the finely chopped rosemary on top of the batter.
Bake for approximately 40 minutes or until a toothpick comes out clean.
Let cool and slice into it for a salty treat!