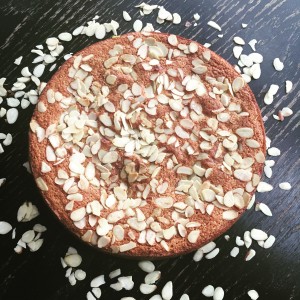 It's almost February and right about now, I'm missing crisp fall days. This fall my friend, and fellow blogger, who authors Sundays Over Easy, hosted a lovely picnic where she baked a delicious lemon ricotta flourless cake. Her cake inspired my Orange Almond Spice cake, which reminds me of those fun fall days.
Recipe:
2 C almond meal
4 eggs
1/4 C maple sugar
1 tsp baking soda
3/4 C maple syrup
juice and zest of 1 orange
1 tbsp ground clove
2 tbsp cinnamon
1/4 C slivered almonds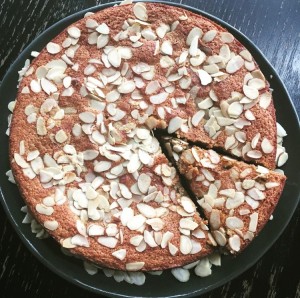 Preheat the oven to 350 degrees
In a stand mixer, fitted with a paddle attachment, add in the almond meal, juice and zest of the orange, maple sugar, clove, cinnamon and mix on medium speed until well combined
Then separate the eggs into whites and yolks
With the mixer on low speed, add the yolks to the dry mixture one at a time until well combined
Empty the mixer into another bowl and set aside
Clean out the mixing bowl
Put the clean bowl back into the mixer and fit with the whisk attachment
Add in the egg whites and the baking soda
Whisk on medium until you get soft peaks in the egg whites
Pour the egg whites into your almond meal mixture and fold gently into the mixture with a spatula
Pour the batter into a greased cake tin and sprinkle the slivered almonds evenly on top
Bake for 30-35 minutes — until a toothpick comes out clean
Cool & enjoy!