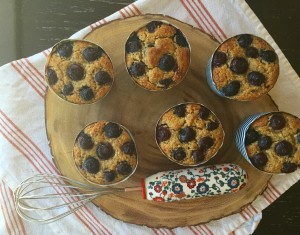 One of the wonderful benefits of living in Northern California is the easy access to deliciously fresh ingredients that inspire vibrant food. This particular treat also takes me back to my childhood, where we also had access to fresh food, just by walking outside. Growing up, I had 3 citrus trees in my backyard, so access to citrus was something that inspired many of the dishes we ate.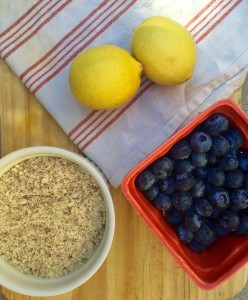 This morning I stopped by my favorite local fruit stand and picked up some fresh blueberries and lemons and decided to build a breakfast from these ingredients. These muffins came out tasting so fresh and yummy — I'm so excited to share them with you!
Recipe:
2 1/2 C almond meal + 3 tbsp for dusting the blueberries
1/2 tsp baking soda
1 C all natural applesauce
zest and juice from 2 lemons
2 eggs
1/4 C maple syrup
1 quart fresh blueberries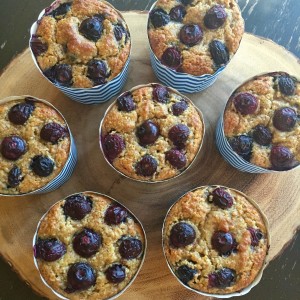 Preheat the oven to 350 degrees.
In a mixer with a whisk attachment (or a large bowl and a whisk for a much better arm workout), add the almond meal and baking soda and whisk until there are no lumps in the almond meal.
In a separate bowl, whisk the applesauce, lemons, eggs, and maple syrup until everything is well combined.
While the mixer with the almond meal and baking soda is on low, slowly incorporate the wet ingredients.
Mix until everything is just combined (be careful not to over mix).
Toss the blueberries in the 3 tablespoons of almond meal (This will keep the blueberries from bleeding into the muffins too much and will help them from sinking to the bottom of the mixture.)
Then, using a rubber spatula, fold most of the blueberries into the batter.
Using a quarter cup measuring cup, spoon the batter into a greased muffin tin. I like to hold some blueberries back and place them towards the top of the muffins to ensure you keep some at the top. (Using a measuring cup will ensure that the muffins are all the same size and will therefore bake evenly.)
Bake for 25 minutes, until a toothpick comes out clean. Don't poke the blueberries – they will dirty the toothpick :).
Cool and enjoy!