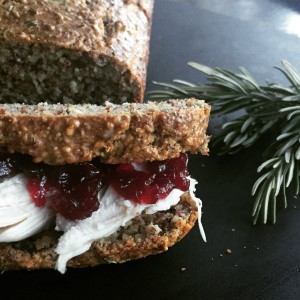 As someone who loves baking for others, Thanksgiving is a great opportunity to share homemade food with the people I love. I took last week off to enjoy just this with my family. I hope all of you also had a food-filled holiday. After Thanksgiving I usually end up with tons of leftover turkey,and cranberry sauce. After such a large, heavy meal, I decided to come up with a fun, lighter, way to revive these leftovers with flavorful sandwich bread. Here is my rosemary sea salt bread that will help you rethink your Thanksgiving leftovers.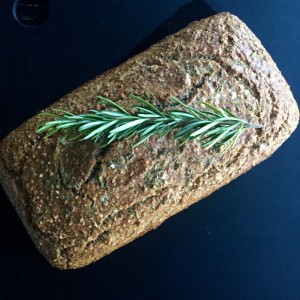 Recipe:
2 1/2 C Almond Meal
1/2 C Tapioca Flour
1/2 C Applesauce
3 sprigs rosemary (chopped fine)
1 tsp apple cider vinegar
1 tsp sea salt + pinch to sprinkle on top of loaf
1/2 tsp baking soda
4 large eggs
Preheat the oven to 350 degrees.
In a stand mixer combine the almond meal, tapioca flour, 2 sprigs rosemary, 1 tsp sea salt and the baking soda.
With the mixer on low, add in the apple cider vinegar, applesauce and eggs one at a time – continue to mix until well combined.
Then, pour the batter into a parchment paper lined and greased loaf pan.
Sprinkle a pinch of sea salt and 1 sprig of the finely chopped rosemary on top of the batter.
Bake for approximately 45 minutes or until a toothpick comes out clean.
Let cool and then slice up some of that leftover turkey and spread on some cranberry sauce for a fun twist on Thanksgiving leftovers!