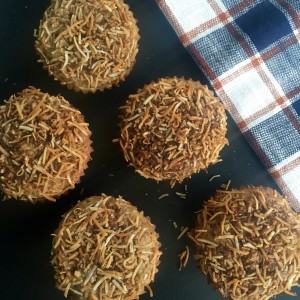 Happy New Year! It is the start of a new year, which almost always mean we are all in recovery mode from holiday eating. As someone with a sweet-tooth (whose birthday is in January), I'm not one to quit the baked goods cold turkey. Instead of cutting myself off, I came up with this hearty recipe that is packed with protein, fiber and best of all, toasty flavor.
Recipe:
2 C Almond Meal
1/4 C Coconut Flour
1/2 C toasted, shredded coconut (1/2 for the muffin, 1/2 for the top)
3 Eggs
1 C Applesauce
3/4 C Maple Syrup
scrape vanilla seeds from 1/2 vanilla pod
1/2 tsp baking soda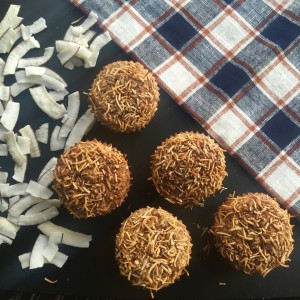 Preheat oven to 350 degrees
In a mixer, fitted with a paddle attachment, mix almond meal, coconut flour, baking soda and vanilla
With the mixer on low, add in the maple syrup and applesauce
Once the maple syrup and applesauce is incorporated, add in the eggs one at a time
Take off the paddle attachment and fold in 1/4 C of the toasted coconut with a spatula
Grease a muffin time lined with muffin wrappers
Using a 1/4 C measuring cup, fill the muffin wrappers with batter – this will keep the batter even
Sprinkle the remaining toasted coconut on top of the batter
Bake for 25-30 minutes (until a toothpick comes out clean)
Cool & Enjoy!!